The School Games operate at three distinct, but integrated levels which provides an opportunity for young people from the ten boroughs of Greater Manchester to participate in intra-school and inter school, at a borough and county level, events.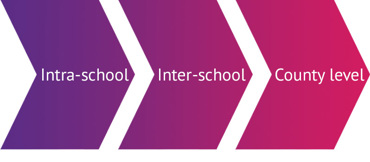 Characteristics
The next phase of development of the School Games will focus on ensuring it is relevant to more children and young people and their lives today and allows more of them to achieve their potential. In driving this forward the School Games will seek to:
Bring about a sense of competence
Promote enjoyment
Avoid negative or bad experience.
To be relevant to young people and their lives, the School Games will evolve in 2019/20 so it:
Is relevant to schools nurturing the development of character, values and life skills.
Contributes to daily physical activity.
Harnesses the power of digital technology and is vibrant, engaging and relevant to children and young people today.
Leverages the inspiration of This Girl Can and reaches more girls and young women and reaches out to other under-represented groups (including those with special education needs or disabilities).
Is increasingly organised, coached and officiated by children and young people.
Aids retention through primary-secondary transition.
Embraces a positive role for parents.
Builds off the excitement of (UK hosted) major events.
Event Types
In order to ensure that the School Games will support more young people events have been designed to offer opportunities for a wider variety of young people, as such four event types have been formulated:
Excel: These competitions will target young people who may be involved in sports in school and in clubs. Participation in these events will see the winners from level 2 competitions progressing to the level 3 Greater Manchester School Games where they will represent their borough.
Values: These competitions are designed for young people who may take part in school sport, however, they do not participate in clubs outside of school. Events will utilise a Spirit Scorecard. The emphasis will be on creating a positive and enjoyable experience for young people that is not solely focused on winning in the traditional manner.
Bee Proud: These events are for young people who have not taken part in the School Games before and may not actively participate in sport and physical activity in or out of school. These events are designed, where possible, to be fully inclusive, as such students with SEND can participate alongside their peers. The emphasis is on developing new skills, achieving their personal bests and fostering enjoyment and confidence. Winners will be determined based upon the demonstration of the School Games values and individual development throughout the day.
SEND: These competitions are designed exclusively for children and young people with SEND and provide a competitive opportunity for these young people. As with Excel events, participation in these competitions at the Greater Manchester School Games requires qualification through level 2 competitions.
The 2020/2021 Greater Manchester School Games will comprise of the following events.
Branded Events   
| | | |
| --- | --- | --- |
| Dodgeball - Year 5/6 | 1 x Excel, 1 x Values | 19th May 2020 |
| Rowing Mainstream and Inclusion  | 1 x Excel per age group | 10th and 11th March 2020 |
| Lacrosse - Year 5/6 | Excel (Number of entries per borough TBC) | 13th March 2020 |
| Handball - U13 and U15 | 1 x Boys Excel, 1 x Girls Excel for each age  | 23rd April 2020 / 17th March 2020 |
| Rugby Grapple Tackle - U13 and U15  | Open entry | 19th November 2019 |