Why Walking?
People are walking more
More people are walking, as you can see from the below image (the number shows the change over the years). However, each year we make around 250 million car journeys that are shorter than one kilometre – the equivalent of a 15-minute walk or a five-minute bike ride.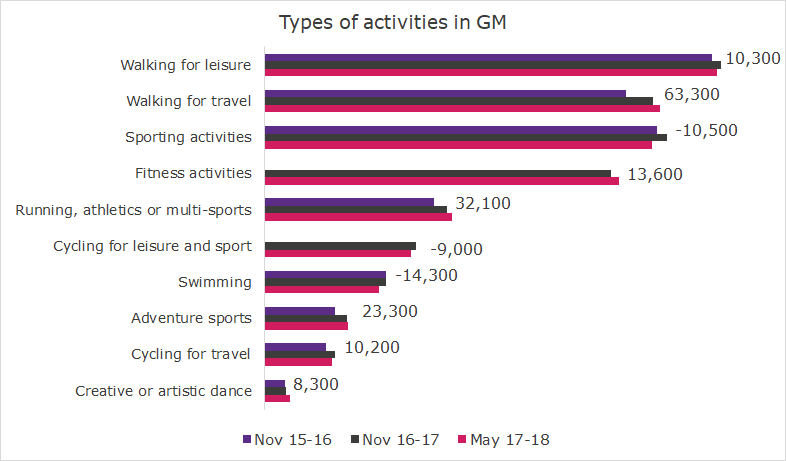 People want to walk more
The Made to Move report highlights that eight out of ten residents – equivalent to 2.2 million people across GM – want cycling and walking to be safer. In fact, over two thirds of people would walk and cycle more if they felt safer.
Walking is accessible 
Walking is accessible with only 4% of people either needing help when walking outside the home or are unable to walk on their own at all.
We also want to create environments and opportunities that support wheelchair access and individuals with low mobility to move more.
Walking can have the biggest impact on population level activity
"Brisk walking has the greatest potential for increasing the overall activity levels of a sedentary population and is most likely to be adopted by a range of ages, socioeconomic and ethnic groups." Hillsdon and Thorogood
Walking counts!
It is sometimes thought that walking is not vigorous enough to lead to health benefits compared to activities such as running.
Kelly et al. demonstrated that there are 5.5 million people in England whose fitness levels are so low that they would find walking at 3 mph a vigorous activity. In Greater Manchester this would be approximately 283,000 people (25-64 years) whose fitness would significantly improve by walking at 3mph.
What do we mean by walking?
Walking for leisure in a formal walking group, as an individual or informally with a friend(s)
Build walking into everyday routines such as a lunchtime walk at work or a 'daily mile'
Functional walking, such as when going shopping
Active travel – walking to get from A to B i.e. walking to work or school.