On Wednesday 25th March, hundreds of primary school children will gather together for the 18th Greater Manchester Winter School Games. The School Games have a new look this year, with the majority of competitions taking place at one location, the Etihad Campus, and the opening ceremony gracing the stage at City Square. The hope is to create a greater atmosphere lasting the whole day to help the children feel part of a large sporting event.
The event revamp forms part of the changes to the wider Greater Manchester School Games programme which came into effect for the 2019/2020 academic year. The changes have been made to provide opportunities for children who otherwise would not get the chance to take part in competitive school sport. These changes are also vital as we aim to get more children moving more, 55% of Greater Manchester's children are not currently active enough to benefit their health.
As part of our work to help the School Games reach new children, four competition formats have been created to cater for a wider range of abilities and confidence levels: Excel, School Games Values, BEE Proud and SEND, find out what each looks like here. Competitions have already been taking place in this format this year, with children and teachers relishing the new opportunities to take part;
"I just wanted to let you know that our children absolutely loved this afternoon. Our staff had one of those "why we teach" moments while watching a child that has learning difficulties and is selective mute as he had a smile from ear to ear for the whole of the afternoon. Thank you for giving them all the opportunity to compete." Teacher from Bolton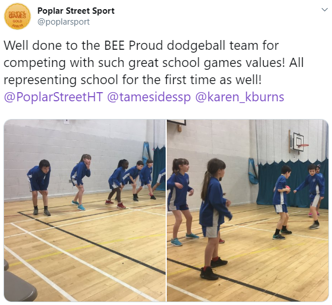 This year's Winter School Games will see children taking part in five competitions across four sports and activities: sportshall athletics, boccia, rugby league and a multi-skills festival. As well as the competitions, "have-a-go" stations are being introduced to give children further opportunities to try out different sports that they may not normally get to try at school, including softball, skateboarding, parkour and many more.
The opening ceremony, taking place at City Square, will be hosted Paul Sleem and young host Luke Parkinson from Oldham Sixth Form College who is part of the Youth Sport Trust's Young Event Hosts Programme. They will be joined by a school dance act from St Francis Primary School, Manchester and Drumz Aloud returns after going down a storm at the 2019 Summer School Games.
In conjunction with the School Games Organisers across Greater Manchester, there have been more than 900 events at an intra and inter school level engaging more than 37,000 young people so far this academic year and there are many more events scheduled throughout the year.
The Games are supported by over 100 volunteers, the majority of which are students from schools across Greater Manchester. They have all supported School Games competitions in their local areas and now have the opportunity to develop their skills further by supporting the county event. Some have also received further training where they have developed sport specific skills such as refereeing.
For more information about the event, please visit www.greatersport.co.uk/SchoolGames and to keep up to date on the day follow #GMSchoolGames on Twitter and Instagram.