In partnership with 10GM a piece of work has been carried out in order to try and help:
Understand the barriers to communities getting more active together;
Recommend development activities that could support 'community leaders' as part of the system.
We were seeking to understand (via a Landscape Review and Co-Design Process):
What is needed to remove barriers to Community Leaders supporting others (neighbours, colleagues, friends, family) to be more active;
What we can learn from the response to coronavirus that informs this.
Through a thematic analysis of a Landscape Review, we were able to identify three key needs that are met in effective community activity:
Autonomy
Meaning
Connection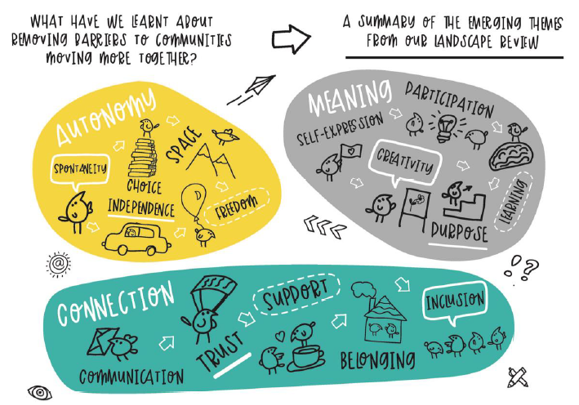 At the heart of the recommendations is the idea of identifying individuals and groups in communities that have a spark of an idea (that hasn't been acted on often). This in turn will ignite many small actions that together could make a big difference.
Mutual Aid Groups have shown the power and magic of sparks of ideas being brought to life and we think this could be replicated within communities with a focus of getting people moving.
Themes that we recommend underpin all of the practical recommendations that we will make:
Community first, activity second – there is an opportunity for GM Moving to seize the new community space that has opened up by working with Mutual Aid type organisations to build a different future for GM Communities;
Make the invisible, visible – Intentionally focus on supporting individuals already underrepresented, who are not part of the current conversation. Those who are at an early stage in their journey, who have a spark of inclination towards community action and can be supported to integrate activity and movement;
Meet people where they are (hyperlocal is best) – Support needs to happen at a hyper local level e.g. neighbourhoods in the main (exceptions in appendix) or / hyperlocal is best and don't expect people to be ready for what you're offering;
Value the experiences of everyone – Build connections between those already active in communities and those currently invisible. Create opportunities for learning and development to encourage collaboration to keep the exponential spread of activity moving as community expertise develops;
Aim for minimal 'interferences' – Realise the potential of co-production to eliminate unnecessary systemic barriers to fruitful collaboration.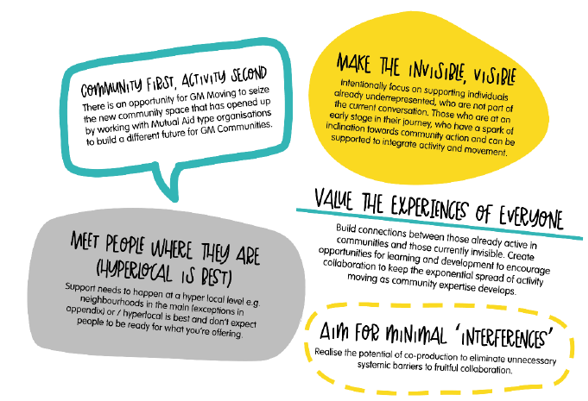 To read about the approach used for this piece of work and the full findings and recommendations please download the full report below.
Downloads