Covid-19
With County School Games events postponed for this year please visit the Keep GM School Games Moving page here to see what is still on offer for your schools and young people.
September 2020
The Greater Manchester School Games network have been working together in response to Government guidelines around COVID 19 to put in place their School Games offer for the academic year 2020-2021. 
As little is known at this stage around timescales for schools to be able to take part in team sports, the first term will consist of a menu of virtual competitions.  The design of these formats will allow schools to use them flexibly for personal challenge, intra school competition and virtually to compete against pupils in other schools. As restrictions ease, regular reviews will take place with a view to working towards a physical county final event in the summer term, if permitted. 
The network hope to use this situation as a positive to focus on driving up participation, increasing fundamental movement skills and preparing young people in Greater Manchester's for a lifelong love of physical activity. 
Regular updates from each borough can be found via each boroughs website on the right hand side of the Greater Manchester SGO page here.
Mission
Keeping competitive sport at the heart of schools and providing more young people with the opportunity to compete and achieve their personal best.
Vision
By 2020 the School Games will be continuing to make a clear and meaningful difference to the lives of even more children and young people.
As a legacy of the London 2012 Olympic and Paralympic Games the School Games aims to provide more young people with the opportunity to compete and achieve their personal best whilst making a clear and meaningful difference to their lives.
Competitions progress from intra-school competitions to inter-school competitions within each of the boroughs through to the county level events this provides a clear pathway for children and young people from the ten boroughs of Greater Manchester for participation in sports.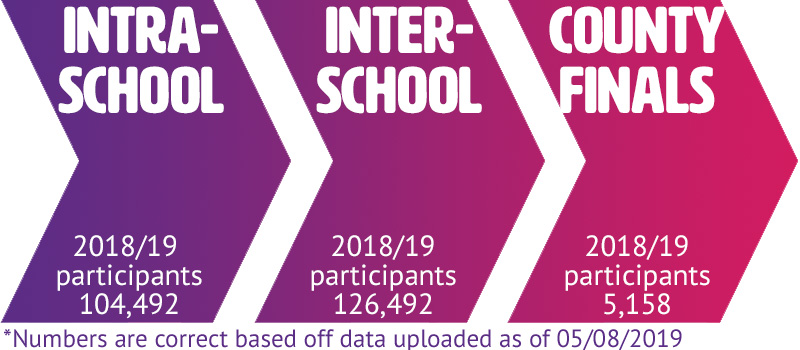 Leadership and volunteering
The School Games are supported by around 400 young volunteers who collectively contributed over 2000 hours of volunteering to the county competitions last year. Our volunteering programme is split into Young Leaders, 14-16 year olds, and Event Leaders, 16-25 year olds, both of these groups play a key role in the running of events throughout the year and they are supported with a wide ranging training and rewards programme.
The roles available are wide ranging from officiating to general event support to media. Being involved as a volunteer provides an opportunity for young people to develop a wide range of skills, make new friends and improve employability.
Our Event Leader programme aims to offer a range of volunteering and training opportunities, you can find out more about individual opportunities and sign up at GM VIP. We recognise the importance of volunteering to both the running of the event and for individual personal development, as such we are keen to work with our volunteers to help create roles based upon their interests and the skills they wish to develop. As such the programme is split into three to provide opportunities for a wide range of young people but within each of these there are opportunities for the individual to shape their role. The three volunteer areas are:
Sport Specific Event Leaders: These volunteers will work alongside deliverers to provide a rewarding and enjoyable experience for all those taking part. Roles will vary dependent on sport and the event type, this year we have four different event types to cater for more young people. Your role may involve planning and running activity stations, officiating, supporting young leaders and managing results and fixtures.
Media Event Leaders: These volunteers will have a passion for media and marketing and will work alongside our marketing team, we will work with you to find the specific areas which suit you and your interests. Roles may include managing our social media for the day, supporting with the branding of the venue(s), working alongside our photographer to capture the day, collecting stories of the day and writing up the day.
Event Leaders: These volunteers will be proactive and involved in a wide range of activities and will support the GreaterSport team in ensuring the event runs smoothly. This is an opportunity to see all the components that are involved with running a large multi-sport festival, roles will include helping with the event set up, supporting the opening ceremony, this includes welcoming schools alongside our mascot Chase and getting the children excited for the day ahead, supporting deliverers with the results and the event running order and collecting stories on the day.
The Young Leader programme, meanwhile, is organised at a borough level by the local School Games Organisers. If you are looking for more opportunities to volunteer visit our volunteering section.